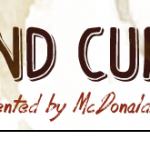 Play the 2nd Cup Quiz weekday mornings around 8:10 with the Key Morning Buzz and this week you could win a 4 pack of tickets to Circo Comedia at the Weinberg and a FREE McCAFE COFFEE from McDonald's!
Did you miss an answer recently? (Silly work…making you get out of your car and come in and…work. PSSSHHH) Fear not, check out answers to our recent questions right here.
Q: Tonight's Powerball jackpot is worth over $403 million…A survey reveals that 51% of people would keep THIS.. even if they won, what is it? A: Their JOB!...