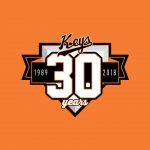 Have you ever thought to yourself when watching a sporting event, " I could sing the National Anthem just as good as that person!"
Well, warm up your vocal cords and get ready to show us what you've got!!
The Frederick Keys National Anthem tryouts are happening on March 7th from 4 – 8pm at FSK Mall.
Any individual who wants to participate must pre-register by visiting frederickkeys.com. Once you've printed and filled out your form, it MUST be submitted to Kevin Hernandez by either fax, mail or email by March 6. Any questions can be emailed to KHernandez@frederickkeys.com or by calling 301-815-9917.
All singers will be evaluated by a panel of judges from Key 103, 106.9 The Eagle and Keys staff. Tryout results will be posted on the club's social media platforms and those selected to sing will be contacted to set up a date.
Some general rules and notes about the audition process:
• Tryouts take place on a first-come-first-serve basis
• Performers will sing the national anthem in its ENTIRETY
• No musical accompaniment will be provided
• No other songs may be sung at the tryout
• Solo acts and group performances are equally encouraged to tryout
• There are no age restrictions for singing the national anthem at a Keys game, but those who audition should be comfortable singing in front of a large crowd
Good luck!!