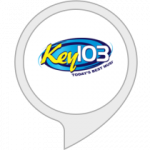 KEY 103 is now available on Amazon devices with Alexa. Today's Hits & Yesterday's Favorites, The Key Morning Buzz with Tommy & Jenna, 10 Songs in a Row While You Work with Laura Lee, Afternoons with Jeremy, the Big 5 @ 9 with Babs, and much more, all FREE on your Echo, Echo Dot, Echo Show, or any other Alexa-enabled device.
Setting up KEY 103 on your device is really simple too! Just follow the steps below…
Select "Skills" from the main menu of the app.
Search for "Key 103" Tap on the station logo to get to Key 103 skill.
Tap "Enable" to enable the skill.
Once you've enabled the skill, just say, "Alexa, play Key 103."
Enjoy Key 103!
Having technical difficulties? Need assistance getting started?
Click here for a step-by-step guide to setting up your Echo device and enabling new skills via the Alexa app.