We are so excited to celebrate Keyote's birthday at the Keys game on June 28th. In fact, to make the celebration perfect, we are inviting 100 fans to come to the game as our guests. We'll all sit in one section and have a ball. Join The Morning Buzz with Tommy and Jenna and have fun before the game – we'll be giving away Key 103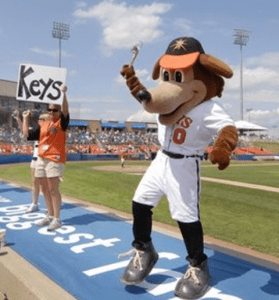 swag, MD Lottery Scratchers (18+ only), plus other prizes.
All Key 103 fans who win tickets will also get a party hat and noisemaker at the game.
Want to just purchase tickets? For just $15 you get access to a Meet and Greet with Keyote's friends – a Minion, My Little Pony, and a dinosaur! It's a character-palooza! You'll also receive a ticket to the game, a hot dog, chips and a drink!
Plus, it's Fireworks night!
Want to win a Family 4 Pack of tickets? Enter below.