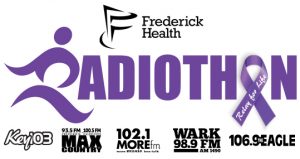 It's time for Radtiothon Live 2020 sponsored by Frederick Health.
Join the Key 103 crew for two full days of live, in-person fun coming to you from the James M Stockman Cancer Institute located just off Opossumtown Pike in Frederick. You are welcome to drop by and say hi in person – or you can watch LIVE on the Key 103 Facebook page.
Our goal? To raise $30.000 to benefit the American Cancer Society and Relay for Life. All money we raise stays in Frederick and helps people with transportation and hotel costs as well as provides a 24 Hour Helpline.
March 19th & 20th
5am to 7pm
Want to add someone's name to our Wall of Hope? Fill out the info below.
Thanks to our sponsors:
Power Hour Sponsors:
March 19, 5pm Fast Lane Auto Sales
March 19, 6pm Veturgency
March 20, 8am Veturgency
March 20, 10am Toothman Orthodontics
March 20, 12pm Frederick Keys