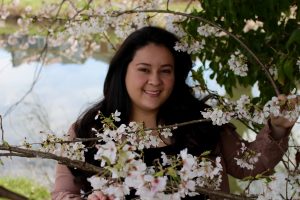 My journey at Key 103 started on the street team and here we are almost a year in a half later and I am on air! Believe it or not, I was always the quiet one growing up. I had few friends and lacked a social life.
It wasn't until I got to college when I realized that I could bring a lot more to the table.  I experimented with different classes and found media communications 101. Since then I have not gone back. Fast forward 4 years and you get Stephanie 2.0 who is a spunky, outgoing, says whatever is on her on mind type of gal.
In my free time, I like to hang out with friends, blog, and watch TV/Movies. I'm a big Star Wars nerd (yes I am the one that dresses up for the premiers… you're welcome) thanks to my big brother. I also like Game of Thrones, Marvel, The Big Bang theory, and many more! If I were to list all of them, you would probably be reading forever and I don't want to do that to you cause let's be honest, who likes to read for longer than 10 minutes at a time? Not me.
I can't wait to share everything that this Latina has to offer to all of you. Thanks for visiting my page!