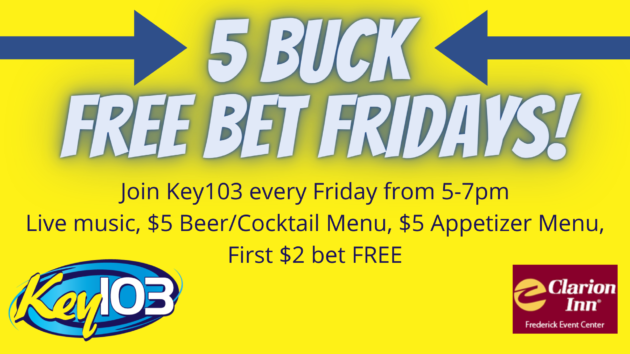 Join Key103 for 5 Buck, Free Bet Fridays at the Clarion Inn – FSK Mall from 5-7pm.
There will be live entertainment, $5 beer and cocktail menu, $5 appetizer menu and your first $2 bet is Free at Longshot's.
Key103 Street Team will be on hand with games and prizes. Each week, you'll have the chance to win fantastic prizes including 100 Maryland Lottery Scratch Offs and a weekend stay at the Clarion Inn.
Entertainment:
August 5: Boogie and Billy
August 12: Wizer Productions – DJ spinning all your favorites
August 19: DJ Genius / Benefactor Events – DJ spinning all your favorites
August 26: Point of Rock (Duo)