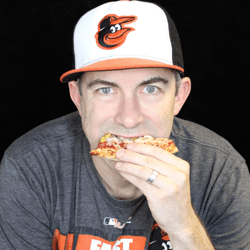 Brian Corson
Hey it's Brian, thanks for stalking my profile page 😊  I have been here at Manning Media for well over 10 years now and on air for Key 103 for about 7 of them. I did move over to our sister station 106.9 The Eagle for almost three years but I'm excited to be back here in Frederick on Key 103.
Frederick is my home. I grew up in Braddock Heights and graduated from Middletown High and FCC.
I remember when the only thing out by the FSK Mall was a Pizza hut, and now we have 10 tattoo shops and 5 breweries to go along with all the other huge changes to the area. It really is cool to have a voice in the community that I grew up in and watch it grow and change so much through time.
I enjoy Rock and Roll music, Movies, Food and Baseball. Especially The Baltimore Orioles. I think I only leave the house once a week without something that says Orioles on it.
I'm also into conspiracy theories, so if you've got a good one and you see me around town feel free to get my attention and talk about it.
Hope to see you around town and thanks for letting me be a part of this great community for so long!
Brian