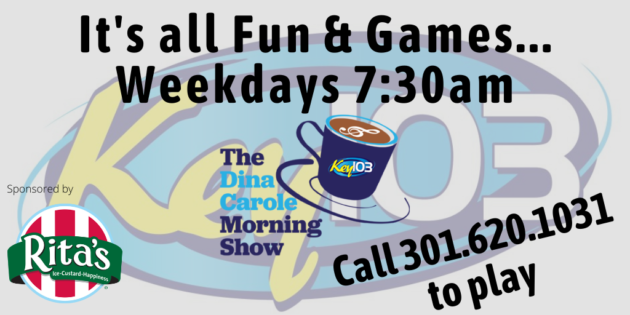 Play Fun and Games every weekday morning at 7:30 on The Key 103 Morning Show with Dina Carole.
Call 301.620.1031 to play!
Fun & Games:
Monday – Match Game – we'll give you a sentence with a blank and  you have to come up with the right answer
Tuesday – 5 in 10 – name 5 things in 10 seconds
Wednesday – Nifty Numbers – we'll give a percentage or number and you have to come up with the what
Thursday – The Price is Right On – we'll choose a store and product and 3 options and you tell us the price
Friday – Say the Song – we'll read 3 clues and you need to tell us the song title and artist
Rita's of Frederick is still open for the season! Visit Rita's of Frederick to find out their daily flavors and sign up for their app!